Infocentral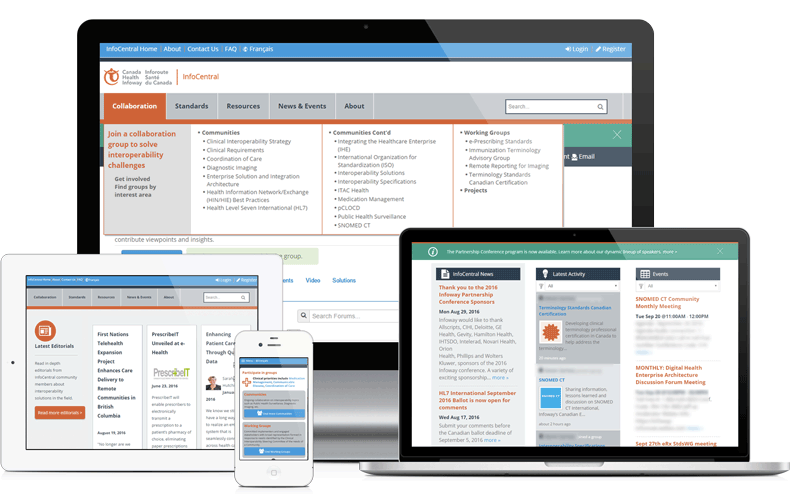 Infocentral leveraged our experience to modernize their collaboration platform and include modern features such as responsive WCAG 2.0 AA compliant design, document versioning, enhanced user experience, payment gateways and membership, LDAP/OpenAM powered ACL, JIRA API support, content promotion and many other leading edge tools.
View project...
Better Health Together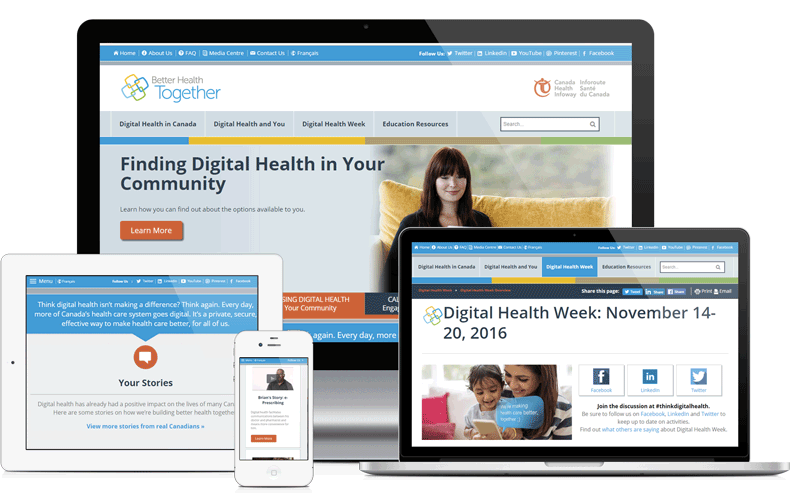 We were given the task by Infoway to repeat our success with their main website for their modern Better health together platform. Including a variety of new features such as customized landing pages, on-site SEO, bilingual support, responsive design, WCAG 2.0 AA compliance and social marketing, among many others.
View project...
The Transplantation Society
Declaration of Istanbul
The Quebec PeriAnesthesia Nurses Association
Concordia University's Centre for Continuing Education
Le Broco Show
Mauvais Karma
Penthouse 5-0 : Video Player
Langevin & Forest
Harricana
BuildAdvisor
Taxi Diamond
Enzamar
1st International Conference on Applied Robotics for the Power Industry
The Canadian Society for the Study of Fertility
18th World Congress on Information Technology
The Transplantation Society on Transplantomics and Biomarkers in Organ Transplantation
IMRP 2011
IEA Elections 2011
CTS-IXA 2011 Joint International Congress Secretariat
Tremblant Venture Summit 2011
2010 Canadian Orthopaedic Association Conference
26th International Papillomavirus Conference and Workshops
4th International Transplant Infectious Diseases Conference
60th Annual Refresher Course for family physicians
2009 Canadian Higher Education Information Technology Conference
2009 Réseau d'Informations Scientifiques du Québec
61st Annual Refresher Course for family physicians
Canadian Conference on Ovarian Cancer Research
ADAPT Montréal 2006
Authority Pro 3
Mind-X
AB Anana Split Tester
My PYTA
TubeNiTRO
Vues D'Afrique
80 - Ruelle de l'avenir
Stendel + Reich Architects
Spa Bromont
Airex Control
Airex Industries
Airex Energy
Radio-Canada : Interactive Chat
Peppermill Tremblay
Mighty 8
Paydirt
Argon 18
Akon Poker Face
iTi - Ekho Solutions
MF Paints
Clinique Anti Aging
Avantages service financiers
Coalition for the Acquisition of Sound Habits
Auberge West Brome
Ann Arson
Datavalet
Dimension Plus Art Agency
Allo Sante
Eventus Conference Manager
International Society for In Vitro Fertilization
Intempco
F. Drapeau Consultants
IMN Solutions
FDS Equipements
House of Fairy Tales
Halon
Viandes Lacroix
Subjug design
Mini Lu